N/A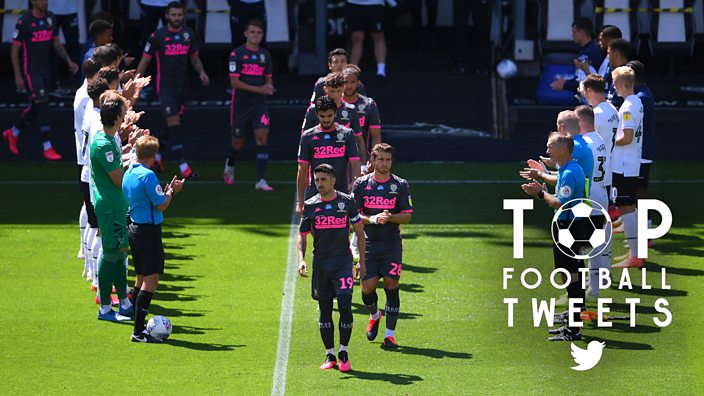 gettyimages
Leeds enjoy a very salty guard of honour
Plus, David de Gea may want to go into hiding, and is it ever okay for a referee to wear customised boots?
Well. Another thrilling weekend of live football – with promotions, sackings, and drama in the FA Cup.
Plus, Leeds United added a new chapter to the 'Spygate' saga.
Here's how just some of it played out on Twitter.
1. David de Gea may want to avoid Roy Keane
It was a nightmare game for David de Gea, who made two massive blunders to gift goals to Chelsea and Harry Maguire added to United's woes with an own goal. 
Last month, after a bad performance from the same pair against Tottenham Hotspur, Roy Keane said that he would be 'throwing punches' if he were in the dressing room.
At least the goalkeepers' union have some sympathy.
2. Watford in managerial-sacking shocker
At this stage, it probably surprises no-one that the Hornets took the decision to sack another manager. Hovering three points above the relegation zone, the club will stand down Nigel Pearson for their two remaining games of the season. 
Pearson's successor will be Watford's 13th manager since Sean Dyche took charge nine years ago.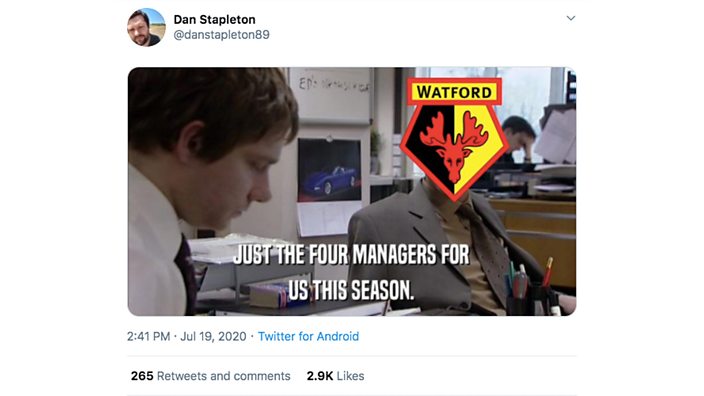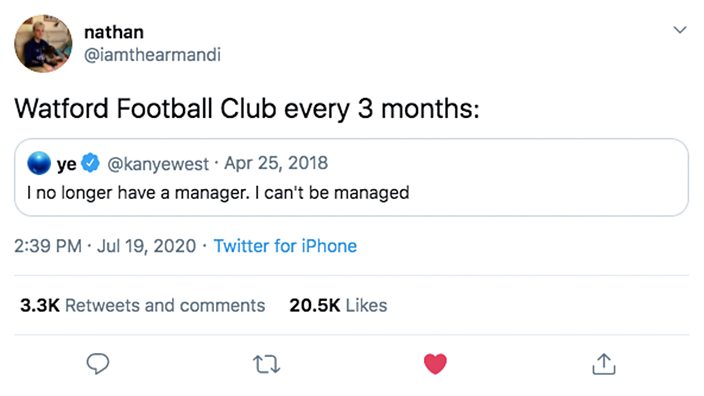 Meanwhile, West Ham, who beat Watford on Friday night, look all but safe from relegation. 
A huge story from the weekend, of course, was that Leeds United have been promoted back to the Premier League, after 16 years out of it.
Some might say they're out to reclaim their rightful place on the throne. 
Good news too for these fans, who stuck it out.
It was nice to see Marcelo Bielsa out amongst the fans too.
4. Alexa, define schadenfreude
The bad blood between the clubs started when Leeds manager Marcelo Bielsa admitted having sent a spy to Derby's training ground – for which Leeds were fined £200,000.
This member of the hierarchy at Leeds isn't letting spygate go.
Amongst all the praise for Leeds over the weekend, there was one naysayer.
6. There's only two Danny Ings
You may recognise Dan from his role as Dan (imaginative) in Sex Education.
7. Assistant becomes teacher
Pep Guardiola was left looking as if he missed his old managerial assistant-come-thorn-in-side Mikel Arteta.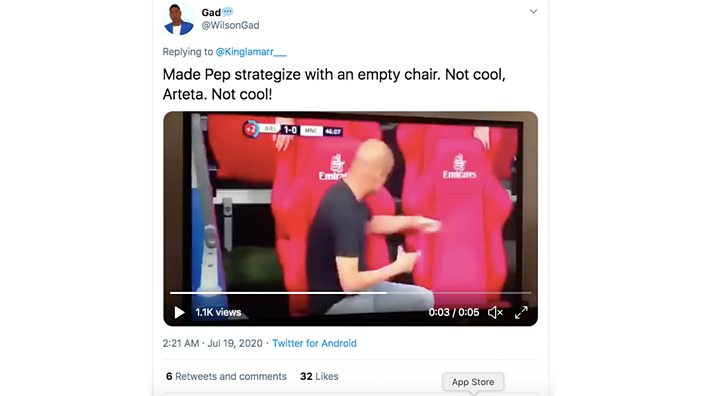 An incredible piece of footage showed Pep Guardiola giving technical instructions to an empty chair during the game. Lockdown hits different.
City dominated possession in the second half, but couldn't break the Gunners down. 
And David Luiz had a chance to atone after having been sent off the last time the two sides met. 
Perhaps the most startling moment of Arsenal's clash against Manchester City, however, came when cameras revealed that referee Jon Moss was wearing a pair of boots which had his name embroidered onto them.  
9. Name and shame them Aluko
In case you were wondering what former international Eni Aluko is missing most about the game, it's doing this to teammates on the training pitch. 
Turns out she's not alone either. 
10. Another clean stick, sorry, sheet for Pope 
Burnley keeper Nick Pope continued his good form in Burnley's win against Norwich on the weekend, with another clean sheet – his 15th in the Premier League this season – a club record for the competition.
One commentator got the wrong end of the stick.