N/A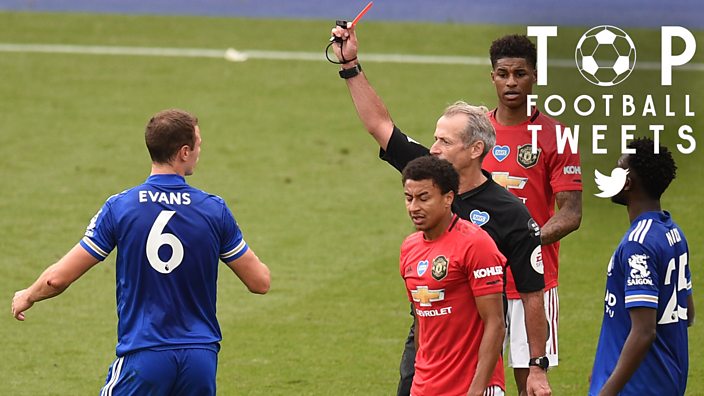 gettyimages
Manchester United say thank Evans
There were goings down, stayings up, records set and fond farewells
Aston Villa survived relegation, Manchester United and Chelsea made the top four and Liverpool finished one point off Manchester City's 100-point record from two seasons ago. 
1. A very specific last-day-of-season-in-lockdown problem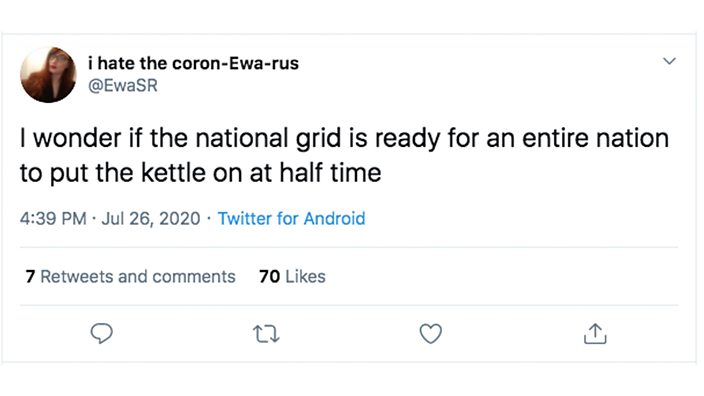 For the first time in history, there were no fans allowed in stadiums on the final day of the Premier League season, meaning a lot more people might have been watching from home than in other years. If you were one of the unlucky ones who forgot to get milk before the shops closed at 4pm on a Sunday – we feel for you. 
Either way, it was a lot to try and take in. 
There was a lot at stake for Leicester, Manchester United, and Chelsea in the race for Champions League places. At the start of the day, there were some interesting permutations to play out.
In the end, Chelsea beat Wolves 2-0, earning them fourth spot. Meanwhile, Manchester United, who needed just a point to qualify, finished third after beating Leicester 2-0. They were helped out by an old friend - former United player Jonny Evans, who both gave away a penalty and was later sent off.
Meanwhile, it was a case of blue Leicester, as some Foxes fans were left feeling cheesed off… ahem.
At least Jamie Vardy can still have something to smile about.
And even Gary Lineker came around eventually.
In case you were wondering who the other player referred to here is – that would be Mr Lineker himself – who was the lead scorer in England's top division three times. 
4. Danny Ings has had an incredible campaign
Meanwhile, Danny Ings finished just one goal off Vardy's tally. 
Watford have reached the end of their time in the Premier League, for now at least. The combined efforts of four (yes, four) separate managers in one season were not enough to keep them up. We wait now to see who will be the next manager to take up one of the most precarious jobs in football. 
Some fans of Arsenal, who beat Watford 3-2, are taking their pleasures where they find them. 
Meanwhile, it was all too much to manage for some of those who still had a stake in the Fantasy Football standings.
7. Chess star is king of the draft
'A real game of chess' is a phrase you often hear used to describe a tight football match. Well, in case you were wondering (you probably weren't, let's be honest), world chess champion Magnus Carlsen happens to be among the world's best FPL players too. Shame he didn't… er… 'draft' in Mohamed Salah, who did come on in the second half during Liverpool's win over Newcastle. 
8.  Goal-line technology is the 'villan' of the piece
When they look back on key moments from the season, there won't be many more important than this one from back in June, when a ball that had quite clearly crossed the line was not given as a goal for Sheffield United, because hawk-eye wasn't working! 
Kevin de Bruyne finished second behind Jordan Henderson in the race for Football Writers' Award Footballer of The Year, but he made quite a statement in Manchester City's final game of the season. City thrashed Norwich 5-0 and De Bruyne got in on the act with two goals and an assist. 
That game was also the final Premier League appearance for Manchester City legend David Silva.
Among all the tributes, after losing out to the aforementioned Jordan Henderson, De Bruyne may feel that sentimentalism has denied him two accolades in one week. 
11. No-one can lay a hand on Traore
We finally learn the secret to why Adama Traore has been so silky on the wing this season.
Wolves now have a nervous wait to see if they will make the Europa League. Their defeat to Chelsea means they finished seventh. That position could be enough to qualify, should Chelsea beat Arsenal in the FA Cup Final next month. 
12. 2020 can still surprise us 
And, finally, a little further afield in the Chinese Super League, we're glad to hear that former Manchester United and Everton player Marouane Fellaini has not only recovered from coronavirus, but that he is also, as they say, doing bits.
A hat-trick of second-half headers in the space of eight minutes helped earn Shandong Luneng a dramatic comeback victory over Dalian Pro. 
Goodbye for another season, football. We miss you already. Come back soon.