N/A
Sebastian Barros
Ovie Soko: People tend to forget that I'm an athlete first, but I can't forget that
Ovie Soko talks about life as a professional athlete and reality TV star - and encountering the dark side of fame
In a new film for BBC Three, Ovie: Life After Reality TV, the professional basketball player gives us an insight into his life since leaving Love Island, and explores whether he can continue to juggle fame with his career as an athlete.
It's also an exploration of some of the highs and lows that come with fame as a reality TV star. Ovie speaks to Love Island stars Olivia and Alex Bowen, who have transformed their lives and earned a huge amount of money. He also speaks with reality stars like Michael Griffiths and Mario Falcone – both of whom have been subject to vicious trolling – in Mario's case, leaving him feeling suicidal at one point.
There has been lots of conversation in recent years about reality TV and its effects on mental health. Broadcasters have committed to offering help. Last year, ITV promised to provide more support for those taking part in shows, in the wake of the death of former Love Island contestant Mike Thalassitis.
As Ovie embarks on this journey, he questions whether the fame game is for him.
Lots of us know him now as the tall, handsome, slightly oddball gentle giant with a huge collection of bucket hats, who finished runner-up in Love Island 2019.
But Ovie's had big success as an athlete too.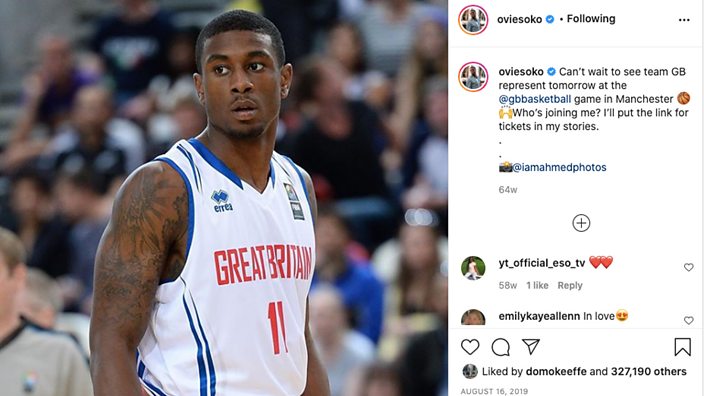 He represents Great Britain and has played college basketball for the University of Alabama at Birmingham and Duquesne University. He's also played in the top leagues in the UK, France, Greece and Spain, and was named in the 2018 All-Champions League First Team.
"People tend to forget that I'm an athlete first, but I can't forget that," Ovie says in the film.
We chatted to him recently over Zoom, from Le Mans, France, where he is currently playing in the top division.
He explained to us that he went into Love Island a little blind – filling out the application because his brother thought it might be a good idea.
"I didn't know it was that popular," he says. "It was only after ITV sent me about three or four email prompts that I finished the application."
This kind of charming nonchalance is pretty consistent with the character who came across on the series – while the other villa residents tore one another's hair out, he mostly just floated around in the pool, eating lollies, wearing nice hats, looking a bit bemused by all of the fuss.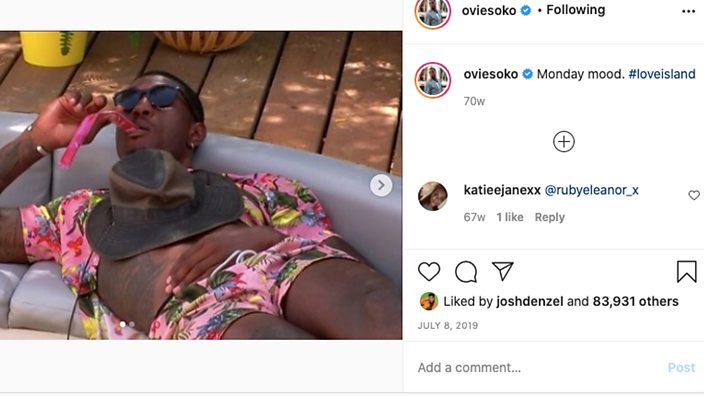 His life changed pace quite dramatically, however, once he left the villa.
"When I came out, I had decisions to make because things picked up pretty quickly," he tells us.
He's done adverts for Diet Coke, has a presenting gig on a Sky Sports NBA show and appeared on the Great Celebrity Bake Off in March.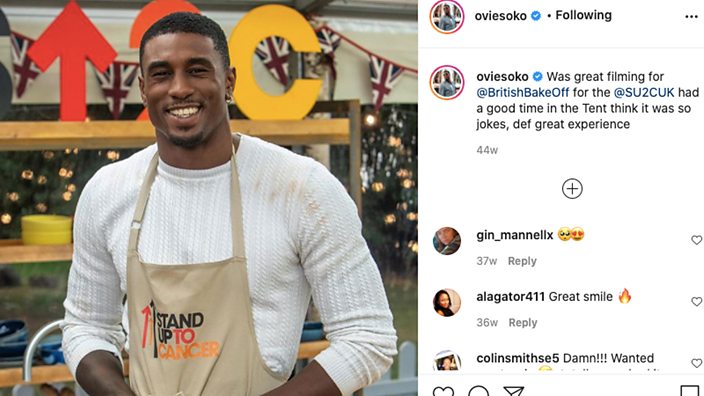 He's been balancing all of that alongside basketball. Ovie took us through what's been a typical day for him over the past year.
"I'd wake up about 4-4:30, do a little bit of meditation work, then get out and work with my basketball trainer. By the time I'm done with that, it's probably about 6-6:15," he tells us. "Then I'll have my breakfast and head over to training. That would tend to start at around 9:00 and last until midday. From midday until the evening, I'd just have to fulfil my other obligations – whether that's an interview or an appearance or whatever else I'm scheduled to do."
In the film, Ovie faces a dilemma – whether it's sustainable to keep doing two jobs, or whether something needs to give.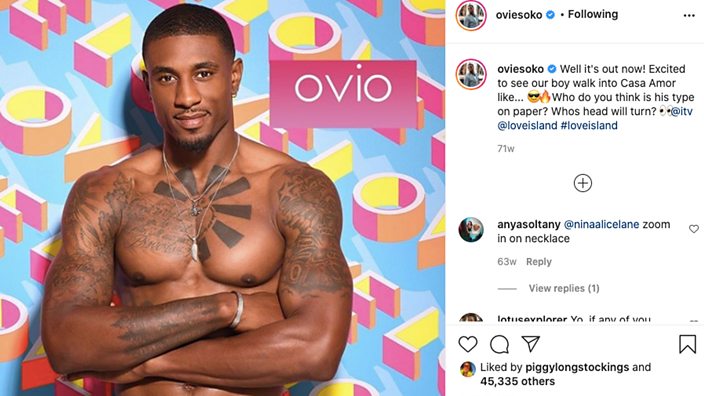 "It's a fun position to be in, but it's not a fun position to be in for too long," he says in the film, "because you want to know what direction you're going in so you can throw yourself into it."
During Ovie's journey in the film, he finds out about the highs and lows that can come with reality TV fame.
Olivia and Alex Bowen, who were contestants on Love Island in 2016, have made a lot of money since leaving the villa – mainly through social media promotions.
"A good month for me, one month, has been £50,000," Olivia tells Ovie.
However, she's clear-sighted about precariousness of her own situation.
"If I made one wrong move, if I said one wrong thing, it could be gone in an instant," she says.
Ovie also speaks to people who have had very bad experiences with online trolling since becoming famous on reality TV.
Michael Griffiths, who appeared on the same series of Love Island as Ovie, earned a bad reputation with some for his on-off relationship with winner Amber Rose Gill.
"I had people send me pictures of my house, the registration of my car," he tells Ovie in the film, adding, "they were like, 'If I see you in the street, I'm going to stab you.'"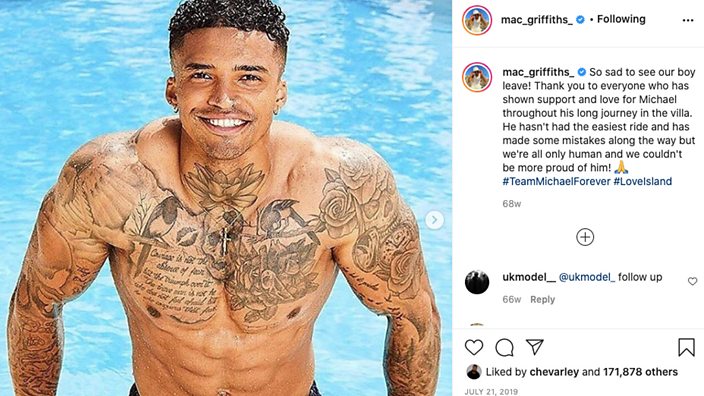 Mario Falcone knows what it's like to get on the wrong side of some viewers, too.
Between 2011 and 2020, he appeared in ITV's The Only Way Is Essex and had a bad reputation, mainly around his relationship with co-star Lucy Mecklenburgh.
"The public can proper hate you," Mario tells Ovie in the film. "Nasty stuff, death threats. One person told me they hope I die from cancer."
Mario, whose sister joined I'm a Celebrity Get Me Out of Here this week, is now living happily with his partner Becky Miesner and their child Parker. However, at one point during his time on TOWIE, online trolling left him very low.
After his public break-up on the show with Lucy Mecklenburgh, during which Mario was accused of cheating, he says he felt suicidal.
Ovie tells us that he sees all of this with open eyes.
"The biggest takeaway from the film, for me, was that you genuinely cannot plan how your career in the reality world will go," he tells us.
He says that he's not necessarily 'fame hungry' or motivated by money.
"Money is just a means to an end. I never feel like I'm missing out. No matter how much money I make, I'll always wear Crocs," he tells us.
Earlier this year, Ovie signed a one-year contract with French Pro A side Le Mans.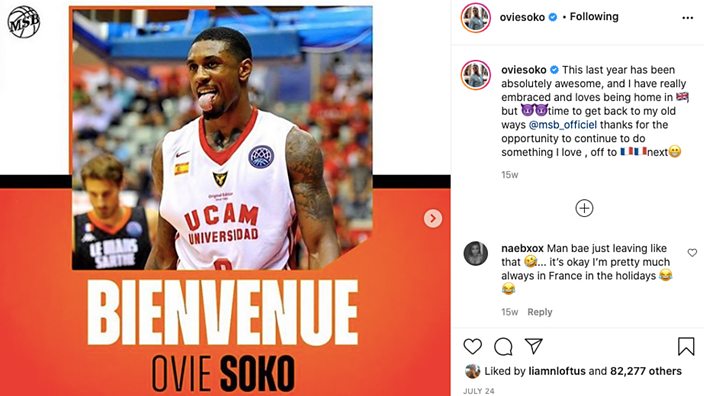 Does this mean he's decided to leave behind his media career and focus on basketball? In the film, he speaks about this new chapter.
"Basketball is obviously the main reason I'm here and why I relocated, but I still have my hands in both worlds," he tells us.
He says that lockdown has actually allowed him to do more things remotely, which has helped with juggling everything.
At 29-years-old, he would like to play for another two years at least - but he's exploring options for what to do beyond that.
"I understand that you're making money for a short period of time," he tells us.
For now, he's thankful that he gets to take on opportunities and he's definitely appreciative of what basketball has brought for him.
"I've learned so much from basketball," he says. "It's taught me so much about how to deal with different types of people and how different people can come together to achieve a common goal."
He's also thankful to have had the opportunity to travel.
"Culturally, I've learned a lot about different places. To be able to travel the world with something I love – playing basketball, why wouldn't you?"