N/A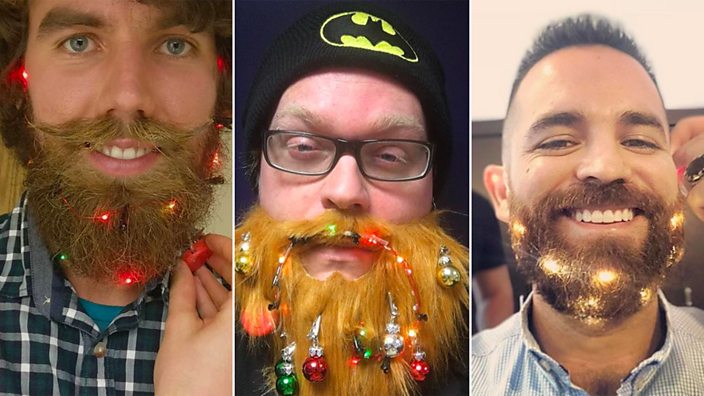 Instagram/stephensights/menkind.gloucester/robertosv
From beard lights to tree hair, are these the weirdest Christmas beauty trends?
Let's all make our faces more festive
Hairy humans (who love Christmas), rejoice! Because now your beard can be as festive as Rudolph's glowing red nose.
Yep. They're basically mini fairy lights, but for your beard - and they're lighting up all over Insta.
We're not sure where the lightbulb moment first came from, but companies have started catering to this new market by making lights that are specially designed to go 'in' a person's beard.
They basically run through your beard hair – provided your beard is long enough, of course – and come complete with a tiny battery pack, so you don't need to awkwardly stand next to a plug socket all through your Christmas dinner.
Clean-shaven people need not feel left out, though - just do what this guy's done and wear a fake beard.
Although the lights are safe most of the time, most companies warn you not to drench yourself in water (or mulled wine, or champagne, or G&Ts...) while wearing them because, well, liquid and electricity are not a good mix.
And to think, this was once the height of weird Christmas fashion... 
For those of us who don't fancy lighting up our faces like a suburban semi-detached house, there are plenty of other beauty and fashion trends to both wow the 'gram and confuse your mum on Christmas morning.
Why stick to your beard, when you can make your entire head look like a Christmas tree?
This festive trend, which took over Instagram in 2016, requires a level of skill, patience, and attention to detail that frankly we're not sure we have.
Still, if you can pull it off, it's pretty spectacular.
Like this guy who, in 2013, was well ahead of the curve.
Basically, people were cutting holes in their jumpers, pushing their boobs through, and then sticking on antlers and a pair of eyes. The nipple was tastefully covered with a bright red Rudolph nose.
And as you can see from the post above, men can do it too. If you have a nipple, you can have a reindeer boob (or moob, as the case may be).
People have been taking lip art to a whole new level, with entire Christmassy scenes painted on their mouths.
From candy canes to Christmas trees, you can get really creative - provided you have a steady hand and some decent makeup brushes.
The only problem is that, as soon as you sip on some mulled wine and tuck into the roast potatoes, the whole thing could end up a smudgy festive mess on your face.
Nothing says on fleek like sticking a bunch of baubles in your brows.
Yes, this was a real, bona-fide trend that kicked off last year, when bloggers started waxing their eyebrows into pointy tree shapes and sticking little Christmas bauble and star stickers all over them.
Then there were these very snazzy reindeer brows.
This particular one was thought up by makeup artist Bri Bardic. To recreate it you basically use an eyebrow pencil and some eyeliner to paint your brow like a big brown antler, before drawing the rest of the reindeer on your eyelid.
We know nail art generally is NBD at this point, but trust us - these are next level attention to detail.
From 3D nails to full-on festive scenes rendered in nail polish, we are officially impressed. 
You might need to get someone else to 'gram them for you, though. We can't imagine typing captions with these is easy.
And if none of those trends take your festive fancy, maybe just stick to a classic nerdy jumper.
Our fave is this one with Louis Theroux's face on it: