N/A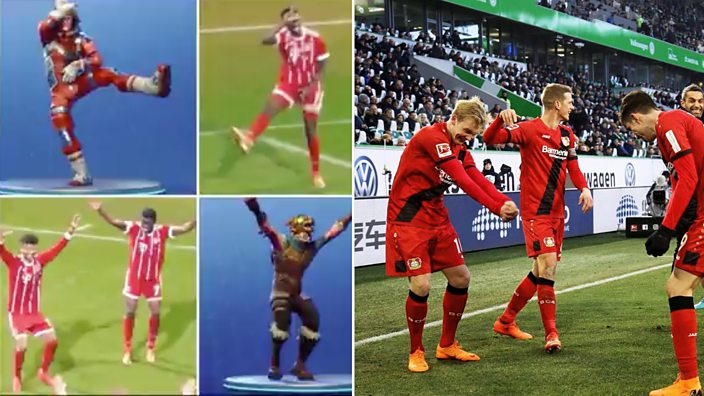 fcbayern, kaihavertz29
These Fortnite celebrations are taking over the Bundesliga
Players all over the Bundesliga are celebrating goals by re-enacting moves from a survival computer game
If you've been watching the Bundesliga in recent months, you may have noticed a few players acting a little strangely - throwing their legs about in a jig, pretending to hack away at the turf with invisible tools, crawling about and acting as if they're putting bandages on their team-mates.
While it looks like some weird managerial team-building exercise, the players are actually re-enacting moves from Fortnite: Battle Royale - a multiplayer online video game in which players battle to be the last person alive. More unusually for a Battle Royale-style shooter game, players can also pull some impressive dance moves - and some of these have taken on a cult appeal.
For the uninitiated, here's a look at the in-game original:
And some Fortnite celebrations IRL...
Lewis Holtby was the latest Bundesliga player to pay homage after scoring for Hamburg this weekend with his version of the 'take the L' dance (above) from the game. There are plenty of other examples too – including Fabian Reese from SpVgg Greuther Fürth and Daniel Ginczek of VFB Stuttgart.
The Bayern youth boys love it.
The original Fortnite is a co-operative game in which teams collect resources, fight off zombies and build fortifications in some kind of apocalyptic dystopia, whereas in the Battle Royale version players scavenge for weapons and vie to the be the last man standing.
How exactly that works as an analogy for German football, we're not sure. Maybe they just love the game. After all, they're young fellas – why shouldn't they take grandstanding inspiration from online gaming?
Timo Werner of RB Leipzig and Julian Brandt of Bayer Leverkusen are big fans of the 'pick axe', where you pretend to hack away with an invisible instrument to 'loot' and build a fortification.
That hashtag translates as 'Volkswagen Arena successfully looted'.
Whether you think this is brilliant or unbearably cringey, the fact is that it's now definitely a thing and you should probably just go with it.
One small word of caution: David James famously put down a dip in performance to spending too much time on his Playstation back in 1997.  Everything in moderation, hey…